Just for laugh?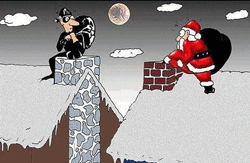 Get ready for your Christmas.
Why does Santa have three gardens? So he can hoe-hoe-hoe.
Why is Santa so jolly? Because he knows where all the bad girls live
The four stages of life – You believe in Santa Claus – You don't believe in Santa Claus – You become Santa Claus – You look like Santa Claus.
It was Christmas and the judge was in a merry mood as he asked the prisoner, "What are you charged with?"
"Doing my Christmas shopping early," replied the defendant.
"That's no offense," said the judge. "How early were you doing this shopping
Picture source: "Funny Santa" photo.       Funnyjunksite.com.  1 Dec  2014.
<http://www.funnyjunksite.com/pictures/pictures/funny-christmas-pictures/funny-santa-pictures/page/2>