Convenient and Easy to Use Customer Enquiry Portal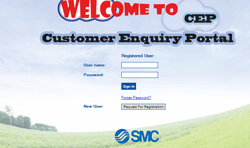 We welcome your registration for Customer Enquiry Portal (CEP). As a CEP user, you will benefit from fast and easy
• Stock status checking
• Request for quotation
• Delivery status checking
Customer Enquiry Portal is exclusively designed for all our valued customers to have the best available and accurate information at anytime and anywhere.
Log in www.smcsing.com.sg/support/customer-enquiry-portal-cep to register now.
It is our pleasure to have you with us.
---

New Product 2014 Roadshow – SMC Malaysia In collaboration with Omron Electronics Sdn Bhd
New products such as Electric Actuators/Cylinders , Effective Static Electricity Elimination Equipment, Temperature control equipment, Serial Transmission System with EtherCAT and many more dynamic demo set and games are included.   The schedule is as follows:
Location                    Date
Johor                         2 & 3 April 2014
Penang                     9 & 10 April 2014
Shah Alam               16 & 17 April 2014
Contact SMC Malaysia for more details.