Did You Know A Computer User Blinks Only 7 Times A Minute On Average?
Feeling that computer eye strain again? It's probably because you're not blinking enough.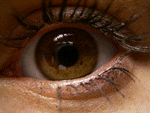 A person normally blinks around 20 times per minute and this is sufficient for the eye to be replenished with
tears containing oxygen, whilst at the same time getting rid of unwanted debris.
However when we are surfing away on our computers, we tend to blink a lot less, around 7 times which is more than
half the average! It happens because we're concentrating so much on the screen we don't want to close our eyes.
No wonder they start stinging!
Picture and Info Source:  


"Eye" photo. Know4now.com. 10 Mar 2013. 1 Nov 2014. 
< 

http://www.know4now.com/2013/03/a-computer-user-blinks-only-7-times-a-minute-on-average.html

 >