Free Compressed Air Dryness Check
Are you aware that moisture in compressed air system will cause damage to the equipment and lead to production downtime? It is necessary to gauge the air dryness in order to apply the appropriate type of air treatment, especially for moisture sensitive processes such as spray painting, medical & pharmaceutical processes, food packaging etc.
SMC is pleased to offer you FREE Compressed Air Dryness Check. Our team is able to determine the dryness of the compressed air using our specially developed dew point tester.
Contact SMC Singapore, Malaysia and Philippines now. We sincerely look forward to serving you.




SMC TECHNOLOGY SHOW "FUTURE IN MOTION 2014"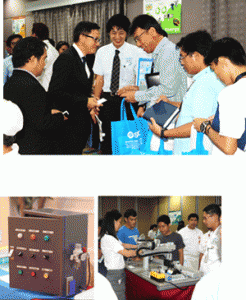 Shoketsu SMC Corporation (Philippines) has successfully completed their first ever technology show entitled "FUTURE IN MOTION 2014". The show
was staged at 4 different strategic locations in the Philippines – Laguna, Pasig, Clark and Cebu. A total of 560 participants joined us for a great time of learning and networking.
Shoketsu SMC showcased about 40 dynamic displays and panels to emphasize many real-life industrial applications. The energy savings ideas and electric drive lectures has won much praises from customers, eager to try out these ideas in their companies.

Engineering staff supports various SMC subsidiaries added confidence to customers, our regional strength, support & services. With full content & ideas of the products, the customers went back to their company with smiles and looking forward to next year's show, leaving SMC staff a challenge to stage a better show next year. "THANK YOU VERY MUCH FOR COMING! Hope to see you next year."