Join us at MSE 2014, Manufacturing Solutions Expo
SMC is participating in MSE 2014 Manufacturing Solutions Expo, the first and only exhibition in Singapore targeted at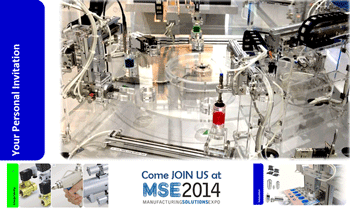 manufacturing professionals, policy makers and business decision makers. The exhibition aims to showcase the latest innovative technologies and cost effective solutions for manufacturing companies to raise productivity.

We cordially invite you to visit our booths to find out our new and innovative solutions for your applications. We will be
showcasing our latest technologies and energy saving solutions. Our expert will be there to respond to your questions.
Venue :Suntec Convention & Exhibition Centre
Hall 401-403
Booth : E02 and F02
Date & time: 8 to 9 October 2014 (10am to 6pm)
10 October2014 (10am to 5pm)
We look forward to meet you there.
Convenient and Easy to Use Customer Enquiry Portal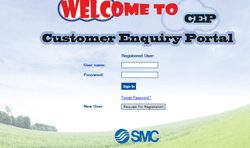 We welcome your registration for Customer Enquiry Portal (CEP) As a CEP user, you will benefit from fast easy
• Stock status checking
• Request for quotation
• Delivery status checking
Customer Enquiry Portal is exclusively designed for all our valued customers to have the best available and accurate information at anytime and anywhere.
Log in www.smcsing.com.sg/support/customer-enquiry-portal-cep to register now.
It is our pleasure to have you with us.
Join us at PSDC, Energy Saving Seminar

(

SMC Malaysia_Penang Branch)
Energy saving solutions to help you save cost…
How much air do you think is being wasted in compressed air systems?
SMC experts have developed some of the most innovative ranges of energy saving products and activities for
compressed air systems which will help you save money as well as helping in the fight to protect our environment.
Venue : PSDC Penang (Penang Skills Development Centre)
Date : 29 October 2014
Time : 9.30am to 4.30pm
Free Compressed Air Dryness Check
Are you aware that moisture in compressed air system will cause damage to the equipment and lead to production downtime? It is necessary to gauge the air dryness in order to apply the appropriate type of air treatment, especially for moisture sensitive processes such as spray painting, medical & pharmaceutical processes, food packaging etc.
SMC is pleased to offer you FREE Compressed Air Dryness Check. Our team is able to determine the dryness of the compressed air using our specially developed dew point tester.
Contact SMC Singapore, Malaysia and Philippines now. We sincerely look forward to serving you.



HAS-200. Realistic Learning for Superior Manufacturing Skill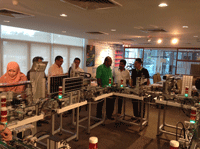 The HAS 200 is an 11-station trainer that precisely simulates the major parts of the Automation Pyramid, from Sensors through Manufacturing Execution Systems.
No other training system matches its flexibility. HAS-200 can be used to prepare learners for automated manufacturing in virtually any industry
from semiconductor manufacturing to food processing.
Using the HAS-200 and the expert teaching materials uniquely designed to support it, faculty trainers can provide manufacturing students – and
working technicians – with realistic practice in operating and troubleshooting a complex manufacturing system.
The HAS-200 immerses the learner in a real – time, hands-on experience that no classroom instruction or computer simulation can hope to match.
Contact SMC Malaysia now. We sincerely look forward to working with you.
Click

here

to view some details on HAS 200 training.