Make sure your compressed air is dry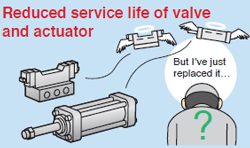 Usually, compressed air contains moisture in both liquid and vapor phases. If water is present in the compressed air system, the price to pay is in the form of maintenance costs, equipment breakdown, and the worst of all is production downtime.
Prior to removing the moisture out from the compressed air, it is necessary to gauge the air dryness in order to apply the appropriate type of air purification system, especially for moisture sensitive processes such as spray painting, medical & pharmaceutical processes, food packaging etc.
You definitely need help from the expert to make sure your compressed air is dry. Our team is able to determine the dryness of the compressed air using our specially developed dew point tester.
Feel free to contact SMC Singapore, Malaysia and Philippines for compressed air dryness check at No Cost.
---

New Product 2014 Roadshow – SMC Malaysia In collaboration with Omron Electronics Sdn Bhd
New products such as Electric Actuators/Cylinders , Effective Static Electricity Elimination Equipment, Temperature control equipment, Serial Transmission System with EtherCAT and many more dynamic demo set and games are included. The schedule is as follows:
Location                    Date
Johor                         2 & 3 April 2014
Penang                     9 & 10 April 2014
Shah Alam               16 & 17 April 2014
Contact SMC Malaysia for more details.