Product Clean Series
Are you working in industrial clean room? If yes, you
definitely concern about the cleanliness level of the device and equipment used.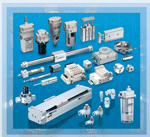 Many of SMC's products are available in clean room
specifications, including air preparation equipment, linear and rotary
actuator, air gripper, solenoid valve, speed controller, fittings and
tubing, filter and regulator, and pressure switch.
Our pneumatic clean series is specially designed and
constructed to prevent particle generation. Corrosion
resistant material such as stainless steel is used for
clean series. The design also comes with good sealing to
ensure the particles generated inside the components are
securely sealed. Besides, lubricants and greases are
specifically formulated to prevent contamination.