Vacuum Saving Valve to Avoid Vacuum Pressure Loss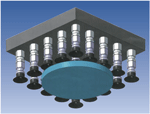 Ideally, one pad should be used for one ejector. When multiple pads are attached to a single ejector, if one of the work pieces becomes detached, the vacuum pressure will drop, causing other work pieces to become detached.
Besides, if the vacuum system is used to pick up work pieces with multiple sizes, sensors are required to check the work piece size and PLC is required to control the valves switching the pads. The idle vacuum valve which is not holding the work piece has to be turned off to avoid vacuum pressure loss.
SMC vacuum saving valve ZP2V is a better solution for the situations mentioned above. ZP2V can avoid the loss of pressure even when there is no workpiece. When some of the vacuum pads are not holding the work pieces due to work pieces fall off or different sizes, the vacuum pressure is restricted by ZP2V. The work piece can remain held by the rest of the pads. The control circuit is now simplified by reducing the number of components.