Description
Outstanding energy saving effect with triple inverter !
Cooling capacity 10kW, 15kW, 20kW, 25 kW
Maximum ambient temperature 45℃
Temperature stability ±0.1℃ (with stabilized load)
Compact and space-saving
Series
Set temperature
range
Cooling
capacity
Temperature
stability
Cooling method
Circulating liquid
HRSH
5 to 35℃
10kW, 15kW, 20kW, 25kW
±0.1℃
Air-cooled refrigeration
Water-cooled refrigeration
Clear water,
Deionized water,
Ethylene glycol aqueous solution
Features
Applications & Benefits
Variations
Outstanding energy saving effect with the triple inverter!
The inverter respectively controls the number of motor rotations of the compressor, fan and pump according to the load of the user's application.
Power consumption reduced by 34% compared with a thermo-chiller without the inverter.
With the inverter, it is possible to operate with the same performance even with the power supply of 50 Hz.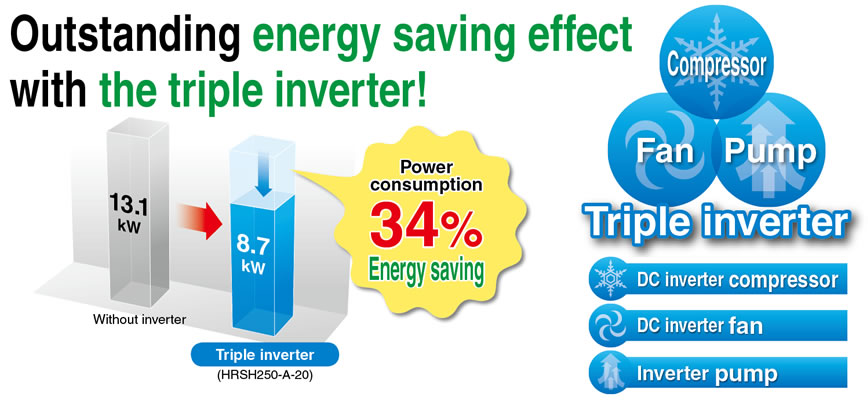 Cooling capacity 25 kW
Max. ambient temperature 45°C
Low-noise design Operating noise Max. 66 dB
Circulating fluid can be heated without a heater.
Heating method using discharged heat makes a heater unnecessary.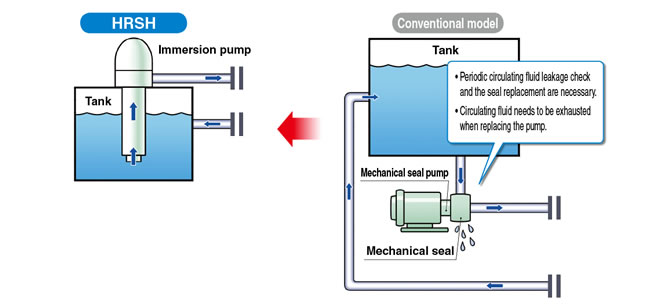 Reduces the maintenance hours for the pump
Mechanical seal-less immersion pump is used.
As the pump has no external leakage of the circulating fluid, a periodic check of the pump leakage and replacement of the mechanical seal are not necessary. There is no need to exhaust the circulating fluid when removing the pump.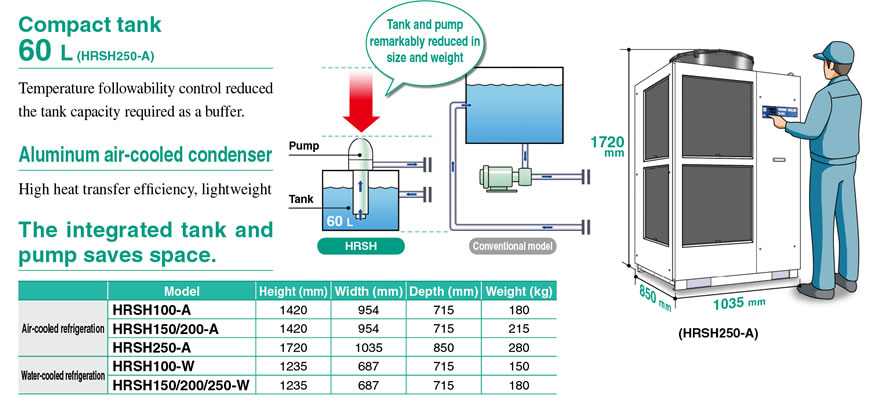 Compact and lightweight 280 kg (HRSH250-A-20)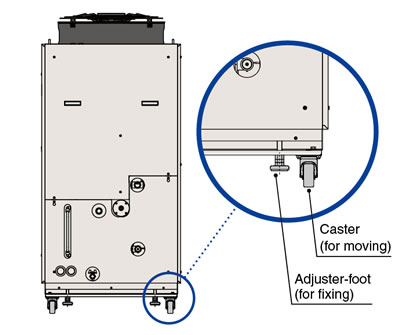 Outdoor installation, Spashproof type (IPX4)
IP (International Protection) is the industrial standard for "Degrees of protection provided by outer defensive enclosures of electric equipment (IP Code)" according to IEC 60529 and JIS C 0920.
IPX4: No harmful influence by water splash is acceptable from every direction.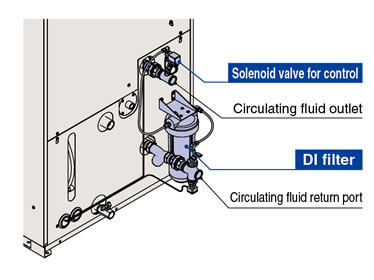 Communication function
The serial communication (RS232C/RS485) and contact I/Os (2 inputs and 3 outputs) are equipped as standard.
Communication with the user's application and system construction are possible, depending on the application. A 24 VDC output can be also provided, and is available for a flow switch (SMC's PF3W, etc.).